Saving money on appliances
Submitted by The Frugal Landlord on Mon, 12/21/2009 - 09:21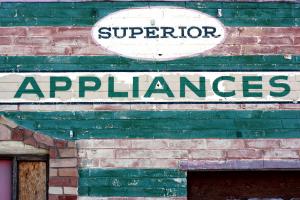 Save money on Appliance purchases: Tips to find kitchen appliances without paying full cost. Creative Commons Photo by kevindooley
If you provide appliances for your rental units at some point you will need to purchase appliances. Whether it is because the old one costs to much to repair or you buy a new rental unit, here are some tips on saving money while shopping for appliances.
The big box stores like Lowes and Home Depot and other appliance stores have areas where they sell discount appliances. These usually are brand new except they might have some dents or scratches. If the damaged side of the appliance will be against a wall or hid by a cabinet you can get a new appliance for the price of a good used appliance. These appliances will still have the full warranty. Many appliance stores also sell like new appliances that have been returned because they didn't work when the purchaser got them home. These are repaired and sold to the public at a discount, often with a warranty.
If you are in the market for a used appliance here are some tips. Checkout the local newspapers and weekly classified newspapers. Many people sell their used appliances when they buy new appliances when they remodel their houses. These kitchen appliances can sometimes be nearly new at a fraction of the cost of a new appliance.
Another section of the classifieds to check out is the garage sales and estate sales. There sometimes will be used appliances for sale for a good price.
A good place online to find used appliances is Craigslist. This is a free online classifieds site. Look under the appliances section.
Another source of slightly used appliances is estate auctions. You will have to go by and check out the appliances. They can be anything from nearly new home appliances to 20-25 year old ones. They will usually be sold as is where is, meaning no warranty and the auctioneer will likely not know if it works or not.
Many larger cities have Habitat for Humanity ReStores where items that are donated but can't directly be used in their building or remodeling initiatives are sold. These stores have a wide variety of items and a high turnover of the better appliances. The ReStore near me has a large supply of built-in stoves, ovens and dishwashers.